Business Solutions for Sustainability-Minded Founders
Realign your strategy with a behind-the-scenes look at the real-life strategies we've used to help impact-driven founders grow their profits while building a kinder world.
The Way We Do Better Digital™
Is it really possible to build a sustainable business while staying true to your values? In our experience, choosing what's right tends to align with what's right for your business. Sustainable business solutions are values-driven, people-focused, and leave you feeling awesome. Check out our posts to learn more.
A local founder's second career finds new life with a dynamic trades business coach. MEET THE CLIENT: When Lisa Council (then Lisa Hannon) founded Mrs.
Get actionable strategies and tools you can put in place immediately to design a digital marketing strategy that works. Learn how to expand your impact, convert customers to raving fans, and create a digital marketing strategy that works as hard as you do. This is the business strategy podcast for impact brands.
What if I told you it was possible to have fun with your digital strategy and not feel overwhelmed by it? In today's episode of
Are you underinvesting in the most critical piece of your digital strategy? In today's episode, we discuss why a copy-first digital marketing strategy makes the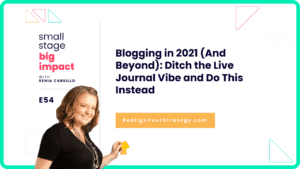 When it comes to building a blog, creating content is only the first step. You also have to make that content accessible. Values-driven marketing is
Are you unsure where to start to #DoBetterDigital with your marketing strategy? This Tuesday, your next step will be delivered right to your inbox. The
Are you ready to revitalize your business and take it to the next level? This week I'm teaming up with project manager and business systems
Has running a business taken over your life? You're making good money and have no shortage of clients. You're feeling pretty successful with this business
Scaling Your Business Strategy
As your business grows, your support systems have to grow as well. Learn how to scale your business in a way that lays a strong foundation for sustainable expansion, impact, and profitability.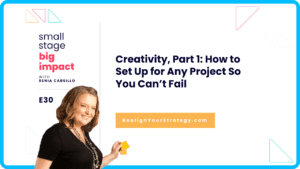 Which creative idea would you pursue if you knew you couldn't fail? Today we kick off the third and final section of our Summer Strategy
Nothing opens the door for spectacular success like taking a risk. But taking a risk also opens the door for spectacular failure. So how do
How can you make remote work manageable and efficient for your company? Something that I've learned is the power of hiring an online business manager.
Sustainability is sexy. It's the key to long term local business success. Around here, we believe that small stages are more sustainable for most local
Make the search engine your friend with these proven strategies that help you show up where clients are looking for you. In today's digital world, sustainability relies on a values-driven SEO and SEM strategy that puts people first. 
The Call to Action (CTA) is often seen as a necessary evil in marketing. But while it is necessary, it doesn't have to be evil.
If you're tired of the hamster wheel of social media content creation, it's time to focus on a more sustainable business model. It's a fact
Search Engine Marketing is essential to a sustainable marketing strategy. But how do you ensure that your SEM is values-driven? In the last episode, we talked
What would change for you if you viewed your SEO strategy as a transformational change instead of just data-driven analytics? In today's episode, I'm sharing
What would you do if you knew your content wasn't reaching 20% of your audience? In today's episode, we talk with Deaf writer and disability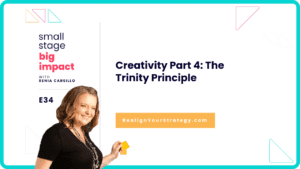 Are you ready to be more creative in your marketing? I imagine that for many of you, one of these two thoughts is holding you
You don't have to choose between what's right and what sells. Learn how to align your marketing strategy with your values to help create a more accessible, equitable, and kinder world. If you're a values-driven founder, this is the place to start with our business strategy podcast.
4 Simple Solutions for Accessible Digital Content that Won't Break the Bank When the adult disabled community accounts for over 25% of the population, it doesn't
When it comes to breaking up with Bro Marketing, identifying it is the first step. How do you know if you've been using Bro Marketing
Have you thought about the types of people who make up your team? Our team at Genevieve Digital is made up of women from diverse
Why another podcast? Why now? Learn why we believe local business leadership will make the world kinder in the first episode of Small Stage, Big Impact.
What are you doing to actively build up your community? If 2020 has taught us anything, it's that we really do need each other. In
Have you ever been told that when doing business you need to check your opinions on politics and religion at the door? I received this
Sustainable Business Practices
You went into business for yourself to have a life, not to make your business your life. Learn the strategies that can help you center ease in your business while maintaining sustainable growth and profitability. These business strategy podcast episodes are life-focused, not just profit-focused.
It's our 50th episode y'all! And we can't wait to share what we've learned with you. We've been in business for 12 years, and we've
Have you thought about what the new normal will look like in a post-pandemic world? Have you thought about how you can influence what that
Is there anything worth salvaging from 2020? If you've been following along for the past few episodes, you know that I've been able to find
What if you tossed the self-help books and focused on a single topic for an entire year? That's exactly what I did for this past
Have you realigned your business strategy yet? When I set out to do the Summer Strategy Sessions in May, I never would have guessed where
Are you struggling with the concept of creativity in your business pursuits? There's a reason that Creativity is our final section of the Summer Strategy
Subscribe now to get more values-driven business solutions in your inbox.
Our mission is to help founders like you create sustainable business growth that centers empathy, equity, and accessibility at its core. 
We're here to help you (and ourselves too) Do Better Digital™ so we can create a kinder, more equitable world. Sign up to receive actionable strategies and tools to help you realign your impact.