The business strategy podcast for impact-focused founders
Are you tired of "bro" marketing, manipulative algorithms, and sales funnels that encourage you to 'trip' a prospect to make her buy more? Then you're in the right place. Listen along as Renia talks business strategy for values-driven founders.
Get actionable strategies and tools you can put in place immediately to design a digital marketing strategy that works. Learn how to expand your impact, convert customers to raving fans, and create a digital marketing strategy that works as hard as you do. This is the business strategy podcast for impact brands.
What if I told you it was possible to have fun with your digital strategy and not feel overwhelmed by it? In today's episode of
Scaling Your Business Strategy
As your business grows, your support systems have to grow as well. Learn how to scale your business in a way that lays a strong foundation for sustainable expansion, impact, and profitability.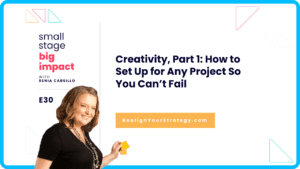 Which creative idea would you pursue if you knew you couldn't fail? Today we kick off the third and final section of our Summer Strategy
Nothing opens the door for spectacular success like taking a risk. But taking a risk also opens the door for spectacular failure. So how do
How can you make remote work manageable and efficient for your company? Something that I've learned is the power of hiring an online business manager.
Sustainability is sexy. It's the key to long term local business success. Around here, we believe that small stages are more sustainable for most local
Make the search engine your friend with these proven strategies that help you show up where clients are looking for you. In today's digital world, sustainability relies on a values-driven SEO and SEM strategy that puts people first. 
The Call to Action (CTA) is often seen as a necessary evil in marketing. But while it is necessary, it doesn't have to be evil.
If you're tired of the hamster wheel of social media content creation, it's time to focus on a more sustainable business model. It's a fact
Search Engine Marketing is essential to a sustainable marketing strategy. But how do you ensure that your SEM is values-driven? In the last episode, we talked
What would change for you if you viewed your SEO strategy as a transformational change instead of just data-driven analytics? In today's episode, I'm sharing
What would you do if you knew your content wasn't reaching 20% of your audience? In today's episode, we talk with Deaf writer and disability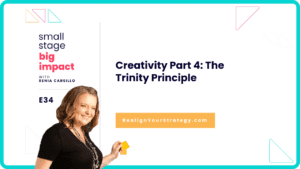 Are you ready to be more creative in your marketing? I imagine that for many of you, one of these two thoughts is holding you
You don't have to choose between what's right and what sells. Learn how to align your marketing strategy with your values to help create a more accessible, equitable, and kinder world. If you're a values-driven founder, this is the place to start with our business strategy podcast.
4 Simple Solutions for Accessible Digital Content that Won't Break the Bank When the adult disabled community accounts for over 25% of the population, it doesn't
Sustainable Business Practices
You went into business for yourself to have a life, not to make your business your life. Learn the strategies that can help you center ease in your business while maintaining sustainable growth and profitability. These business strategy podcast episodes are life-focused, not just profit-focused.
Grow your business with sustainability and joy by understanding your innate leadership style. Have you ever used a popular business tool or strategy only to
Listen along weekly for a business strategy podcast that centers what you care about most. Small Stage, Big Impact is made with love for founders just like you.
You won't find the same-old voices on every other business strategy podcast here. Instead, we talk to the behind-the-scenes experts who have the inside scoop on what mission-driven leaders really do to both make a great living and create a better world.
We're here to help you (and ourselves too) Do Better Digital™ so we can all be better humans. Sign up for notifications and never miss an episode!